Disclaimer: As an attendee of Tech Field Day, my flights, accommodations, and other expenses were paid for by Tech Field Day. I was not required to write about any of the content presented, and I have not been compensated in any way for this post. Some presenting companies chose to provide gifts to attendees; any such gifts do not impact my reviews or opinions as expressed on this site. All opinions in this post are my own, and do not necessarily represent that of my employer or Gestalt IT.

Tech Field Day recently held an exclusive event with HPE Storage at the Nth Generation Symposium, and I was fortunate enough to be one of the attending delegates. HPE had a lot of great sessions during the event. I would encourage you to check them out at the Tech Field Day YouTube page.
Overview
HPE's Primera product is their new, tier-0 storage array designed for extreme performance and resiliency for mission-critical applications. Primera is a massive evolution of their existing 3Par line. Here's a quick list of some of those changes that make Primera a next-generation product:
OS/Platform functions have been taken out of the traditional monolithic OS package model and split into microservices running in containers. This allows them to be upgraded separately and non-disruptively, while also allowing them to scale on demand.
The platform has moved to using a new, 6th-generation ASIC designed for parallel processing. Using these ASICs, the CPU cores have a direct path to every other CPU core on other nodes. This design, HPE claims, will maximize the utility of NVMe drives.
Primera was designed with intelligence in mind, and comes InfoSight-ready. The AI/ML components of InfoSight are intended to increase availability and decrease the workload of storage administrators.
Others have done a better job than I could at spelling out the technical aspects, so instead of rehashing them all, I'll direct you to better resources:
Alex Veprinsky Presents Primera Storage at Tech Field Day (YouTube)
Chris Mellor – HPE scales out 3PAR to build massively parallel Primera line (Blocks and Files)
Chris Evans – HPE Primera – First impressions on the new storage platform (Architecting IT)
Primera's 100% Availability Guarantee
Ever since HPE announced Primera at their HPE Discover event earlier this year, I've been very interested to learn more about it. In particular, about how they are able to back up their 100% availability guarantee.
I'll be honest, as a systems engineer that spends at least some of my time managing various storage arrays, hearing a vendor guarantee 100% availability makes me skeptical. But Dianne Gonzalez, Principal Technical Marketing Engineer with HPE, explains that the guarantee is achievable in practice; it simply requires deployment and ongoing upkeep according to HPE's best practices.
Customer Requirements for 100% Availability Guarantee
Primera is a hardware system that is designed to be highly performant and resilient, but that alone won't keep a system going. HPE does have customer requirements in order to ensure compliance with their 100% availability guarantee, and it's all explained in their 100% Availability Guarantee document. It's readable even with no law degree, but I've pulled out what I believe storage admins will want to know in order to give their directors and VPs the availability they are expecting:
An HPE Proactive Care (or higher) support contract is required
HPE InfoSight must be enabled and sending data back to HPE (requires external connectivity)
All critical and recommended HPE patches must be applied within 10 days of receiving patch availability notification from InfoSight
All critical and recommended Primera OS/firmware releases must be applied within 30 days of receiving upgrade notification from InfoSight
Guarantee applies to unplanned outages only (obviously)
Most of those points should come as no surprise. Pulling out all the power cables in an array isn't going to net you a fat credit from HPE. The biggest thing the customer has to worry about is about staying on top of updates, but, that's what HPE Proactive Care is for. In my experience, the HPE Proactive Care support contracts are well worth it. The Proactive Care team works hand in hand with the customer to schedule and perform updates. Assuming customers can get the patches approved by their change review boards in time, maintaining their end of the 100% availability responsibilities should be no problem.
That might leave you wondering, what happens if there is a qualifying outage?
Customers will need to open a support case with HPE who will determine, at their sole discretion, if the outage qualifies for a credit. HPE states that the credit can be up to 20% of the original purchase price, but also that the awarded credit amount will be determined by them on a case-by-case basis. If credit is awarded, it can then only be applied to the purchase of a new Primera, or an upgrade of an existing one.
My Thoughts
I think HPE is headed in the right direction with Primera. It's the next evolution of a successful storage platform that's been around for nearly two decades. I've managed a handful of 3Par arrays over the past few years, and for the most part, they have been solid. For existing 3Par customers, buying Primera is almost a no-brainer. Actually, HPE states that 3Par arrays will be compatible with Primera arrays as a replication partner. That seems like a pretty smart way to not alienate existing customers, while also giving them a path onto the new platform. HPE was clear at the Tech Field Day exclusive event that there are currently no plans to deprecate the 3Par line.
Let's look at their portfolio: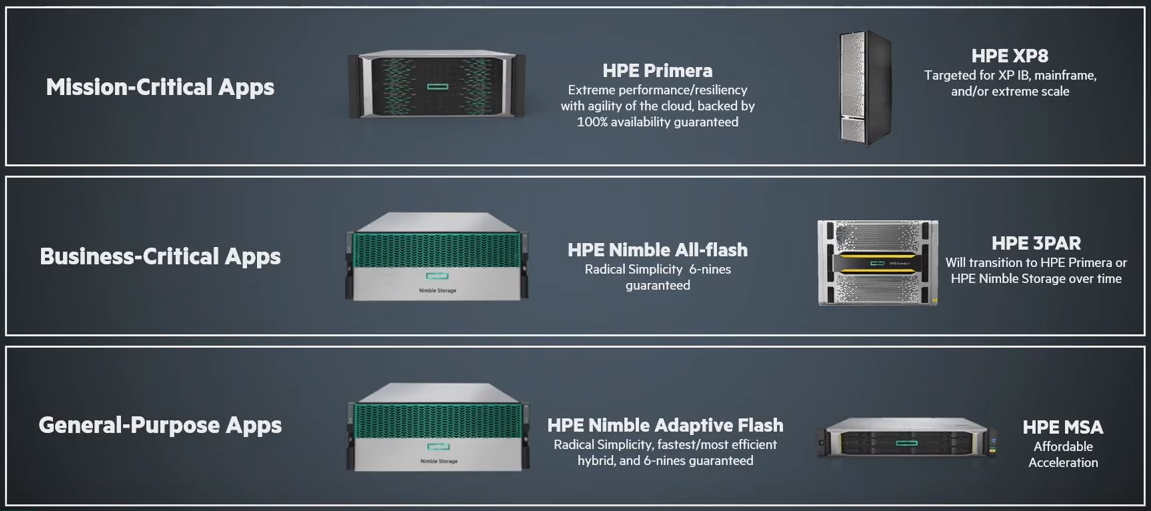 With such a comprehensive offering, I wouldn't be surprised if HPE eventually stops selling 3Par as it shifts its customers to Primera. But for now, customers have the choice of which platform is best for them.
Overall, I'm impressed with Primera. HPE is building on the strengths of the 3Par platform while optimizing and redesigning where necessary for future improvements. HPE has hinted there will be more to come in terms of NVMe and SCM down the road, and I'll be excited to see how the product leverages those technologies.